Art Review: "Pretty Rad: New Collaborations by Aaron Williams & Zach Taylor" at DIY Gallery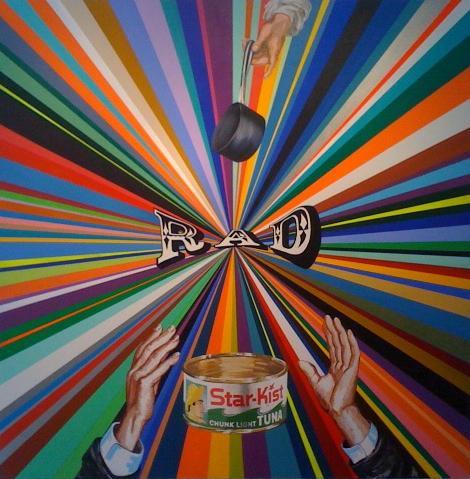 What do you get when you cross the popaganda of Ron English with the "move out of the way, it's my turn" sensibilities of the Clayton Brothers? Who knows, but I bet it'd look a little bit like what's hanging at DIY Gallery's new space in Echo Park.
"Pretty Rad" is a show of collaborative paintings and sculptures by fellow Chicago Art Institute grads Aaron William and Zach Taylor, who've been working together for three years. You can catch a glimpse of their previous work at Taylor's website, which, from what I can tell, looks damn interesting.
I'm not so sure I can say the same about the works in "Pretty Rad."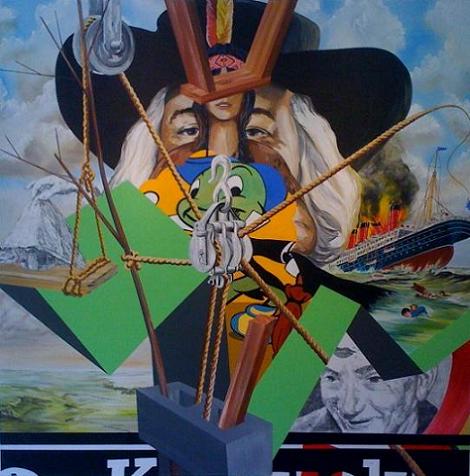 A Place Called Home rips a page directly out of the James Rosenquist playbook, with commercial mascots piled on top of each other and topped off with industrial iconography. Quaker Oats guy, say hello to the Lady O' Lakes lady. She brought Jiminy Cricket with her, but regretfully Mr. Peanut was unable to attend.
What's all this say about commercialism? Maybe nothing, and it really doesn't have to. The images of Madison Avenue are so immersed in our psyches and have been re-appropriated into so much art over the last fifty years, maybe now those images just have become basic building blocks for artists, like the circle, the square or the line. But it still seems they could be combined in more original ways than what's on display here.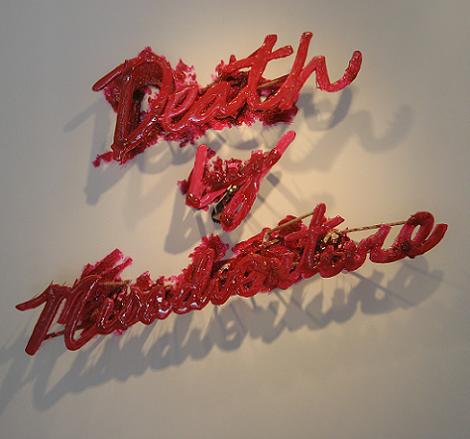 Four sculptures round out the show, each featuring textual shapes, ranging from a solitary plaster letter "T" to a seemingly candy-coated cursive rendering of the phrase "Death by Misadventure." Sounds like a good way to go, and all that bright red really brings it home. I guess sometimes you've just got to come out and say it.
"Pretty Rad: New Collaborations by Aaron Williams & Zach Taylor" is on view at DIY Gallery (1549 W. Sunset Blvd.) through April 10.
When: April 3, 2010
Where: Los Angeles
What: Criticism Of

Previous: Echo Park Cats!
Next: Chicken Boy in Echo Park